Christmas is just around the corner, and Derby Theatre is thrilled to announce the cast and creative teams for their two fabulous festive productions, Cinderella in the Main House and Three Billy Goat's Gruff in the Studio.
Cinderella, on from Friday 24 November until Saturday 31 December, is a striking new version of the classic tale where daring to dream sits at the heart of this heart-warming story. Written by Annie Siddons and directed by Bryn Holding, Cinderella is a perfect show for all ages which promises a unique and utterly uplifting production full of heart, joy and laughter, all interwoven with original live music and song performed a wonderful company of actor-musicians.
The Cinderella cast includes: Shelley Atkinson (Marvellous in the West End, Josie and the Chinese Elvis for New Vic and Stephen Joseph Theatre, A Christmas Carol and A Midsummer Night's Dream for Creation Theatre plus Oliver Twist, Hansel & Gretel and Merlin for Dukes Theatre, Lancaster); Roxana Bartle (Peaky Blinders for Immersive Everywhere and Hartshorn Hook, Hound of the Baskervilles for the Watermill and Pretty Shrewd for Vienna's English Theatre); Jonathan Markwood (Bingo Star and Girls Don't Play Guitars for Royal Court Theatre in Liverpool, Votes for Women for New Vic, plus Peaky Blinders, Coronation Street and Doctors for TV); Áine O'Neill-Mason (Cinderella is Áine's professional acting debut, plus Do Not Call Baby and Come Away Love Death (two short films) and during training, credits include: The Tempest and Uncle Vanya); Purvi Parmar (The Book Thief, a World Premiere for Bolton Octagon and Leicester Curve, Around the World in 80 Days for Theatre by the Lake, Alice in Wonderland for New Vic and The Jungle Book for Dukes Theatre, Lancaster, Pride and Prejudice, The Merry Wives of Windsor and The Jungle Book for (Grosvenor Park Open Air and Storyhouse Chester); Charlotte Rutherfoord (also making her professional debut with Cinderella, and credits whilst training include: Vinegar Tom, The Tempest, Alice in Wonderland and The Threepenny Opera); Nicholas Shaw (Jekyll and Hyde in Jekyll & Hyde for Derby Theatre and Queen's Theatre Hornchurch, Astley's Outstanding Adventures, Beauty and the Beast and Brassed Off for New Vic, Wonderland for Nottingham Playhouse and Northern Stage, Nell Gwynn for Shakespeare's Globe and Nimax, Wolf Hall and Bring Up The Bodies for the Royal Shakespeare Company, plus Holby City, Munich: The Edge of War, Bridgerton, Land Girls (Series 1-3), Foyle's War, Afterlife, Doctors and Emmerdale for TV); and Jason Yeboa (Pinocchio R&D for Unicorn Theatre, Giraffes Can't Dance for Leicester Curve and tour, Desert for Split Moon Theatre and Death in Paradise for TV).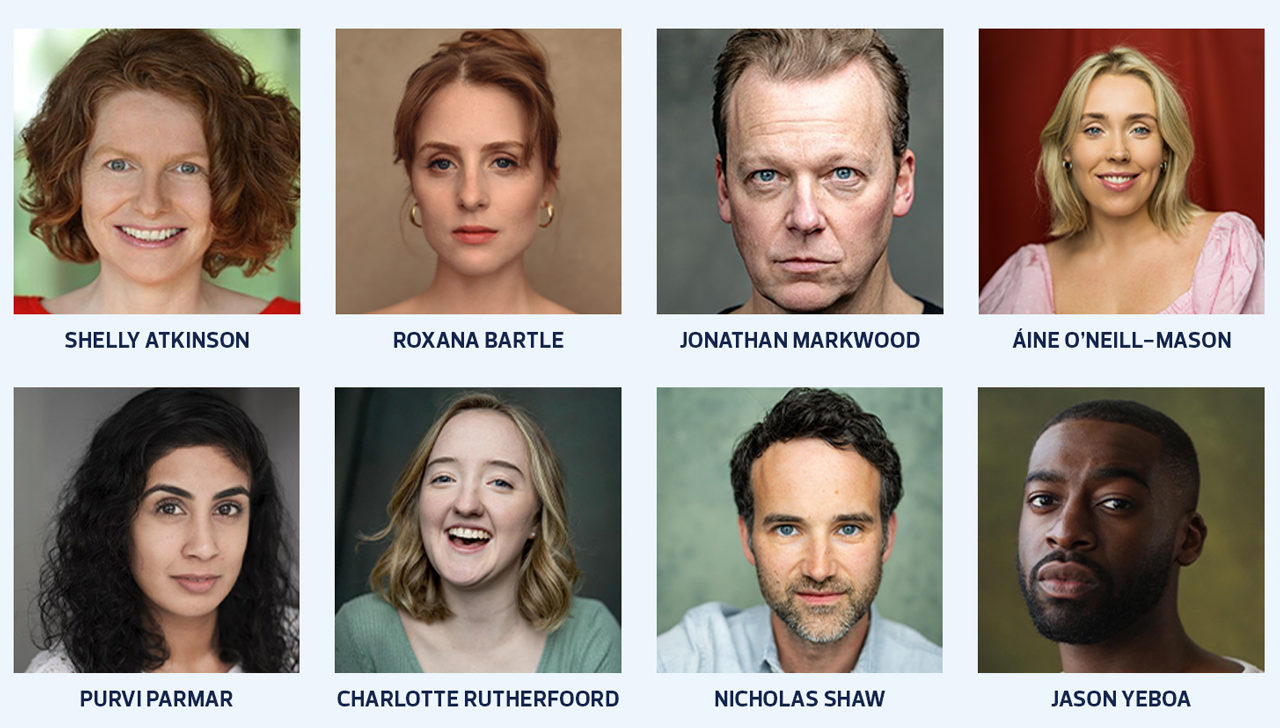 Joining the professional cast of actors will be a company of local young performers including: Qasim Asfar, Kieran Betteridge, Jaylei Brooke Dean, Lottie Brown, Eesha Chohan, Christian Correia, Nevaya Davidson, Nyarah Dawkins, Tilly Enright, Evan Gore, Poppy Harvey, Harmony Liverman, Lexie Mason, Maisie Naylor, Adé Omorinoye, Grace Parker-McKoy, Henry Peapell, Georgina Salwey.
The creative team for Cinderella is: Annie Siddons (Writer); Bryn Holding (Director); SuRie (Composer); Jack Quarton (Musical Director); Kevin Jenkins (Set and Costume Designer); Rachel Cleary (Lighting Designer); Patsy Browne-Hope (Choreographer); John Barber (Puppet Maker & Director); Anita Gilbert (Voice Coach) and Anji Carroll (Casting Director).
Three Billy Goat's Gruff, a Derby Theatre, Hiccup Theatre and Polka Theatre production written and directed by Sarah Brigham, and on from Thursday 30 November until Saturday 31 December, brings younger theatregoers, their friends and families another festive treat from the team who brought us The Emperor's New Clothes, Little Red, Goldilocks and The Three Bears and The Gingerbread Man. Featuring beautiful puppetry, fantastic storytelling, a tricksy troll, three Billy Goats Gruff and amazing live music and original songs.
Three Billy Goat's Gruff includes integrated BSL, creating captioning and integrated audio description.
The Three Billy Goat's Gruff cast includes: Laura Goulden (Robin Hood for Derby Theatre, Gruffalo and The Snail and the Whale for Tall Stories, Much Ado About Nothing for Ramps on the Moon and Stig of the Dump for Chester Storyhouse); Alex Nowak (Treasure Island for Derby Theatre, Scrooge for D-Live and Coffee Morning Club for Mutt & Jeff Pictures); Caroline Parker (The Jungle Book for Derby Theatre, Richard III for Rose Theatre and Liverpool Playhouse, The Wind in the Willows for Taunton Brewhouse, Oliver Twist for Ramps on the Moon, Cinderella for Cast in Doncaster and The Curious Incident of the Dog in the Night Time for the National Theatre); Esme Sears (Cinderella, Peter Pan, Hansel & Gretel and The Jungle Book for Derby Theatre, The Wizard of Oz for Leeds Playhouse and A Little Night Music for Storyhouse Theatre); Ivan Stott (One Man, Two Guvnors, The Jungle Book and Extra Time for Derby Theatre, Goldilocks and the Three Bears, The Gingerbread Man and Little Red for Derby Theatre and Hiccup Theatre, The Emperor's New Clothes for Derby Theatre, Hiccup Theatre and Polka Theatre plus composer and sound designer for numerous Derby Theatre productions).

The creative team for Three Billy Goat's Gruff is: Derby Theatre, Hiccup Theatre and Polka Theatre (Co-Producers); Sarah Brigham (Writer & Director); Donna Mullings (BSL Consultant); Ben Wilson (Audio Description Consultant); Ben Glover (Creative Captioning); Rachana Jadhav (Set Designer); Ivan Stott (Composer & Sound Designer); Tim Heywood (Costume Designer); Ele Munn (Lighting Designer); John Barber (Puppet Maker & Director); Katie Fenwick, Isobel Lamb and Karen Perry (Head) (Rehearsal Room Interpreters).
TICKETS AND HOW TO BOOK
For more information, including accessible performances, and to book for Cinderella and Three Billy Goat's Gruff, you can call the Box Office on 01332 593939, visit www.derbytheatre.co.uk, text 07717 346964 or email DerbyTheatreTickets@derby.ac.uk.